Posts for tag: teething
By Frankenmuth Family Dental - Piesko & Lennan DDS
August 01, 2021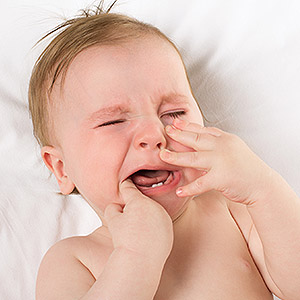 Parents will do just about anything to relieve their children's discomfort when they're in pain. When a toddler is suffering through a teething episode, it's tempting to turn to a topical numbing ointment to soothe their gums.
But there can be a hidden danger for kids if you use certain over-the-counter products used by adults for gum or teeth pain. Many of these topical ointments contain a pain reliever called benzocaine. While it's relatively safe for adults, benzocaine can be hazardous for infants and young children.
Studies have found that benzocaine contributes to a disease called methemoglobinemia, in which a protein in the blood called methemoglobin increases to abnormal levels. Too much of this protein inhibits the transport of oxygen throughout the body. For young children, this can cause shortness of breath, fatigue and dizziness. In extreme cases, it could lead to seizures, coma or even death.
Parents are urged to avoid using any product containing benzocaine to ease gum or teething pain in children. Instead, the American Academy of Pediatric Dentistry recommends providing a child a chilled (not frozen) teething ring, pacifier or a damp clean cloth to chew on. The chewing action helps relieve gum swelling pressure and the cold will help numb the pain. Massaging the gums with a clean finger may also help.
If the pain persists, parents should consult a doctor or pharmacist about giving their child pain medication. Drugs like ibuprofen or acetaminophen (never aspirin) administered in the proper dosage for a child's age can help ease teething discomfort. Medications should always be given orally—you should never rub substances like aspirin or alcohol directly on the gums, which can further irritate already inflamed tissues.
Teething episodes come and go during a child's early dental development—they are like storms that swell and abate before they finally pass. Except when accompanied by fever or diarrhea, there's no need for concern. Your main goal is to help ease their discomfort as much—and as safely—as possible.
If you would like more information on how to help your child weather teething episodes, please contact us or schedule an appointment for a consultation.
By Frankenmuth Family Dental - Piesko & Lennan DDS
September 16, 2018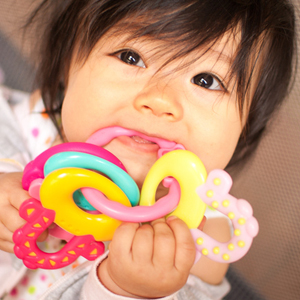 Although it's a natural part of dental development, teething is no picnic for your baby. This process in which each of their twenty primary teeth gradually erupt through the gums usually begins around their sixth to ninth month and may not end until around age three.
These periodic tooth eruptions can cause your baby to bite, gnaw, drool or rub their ears. Teething can also disrupt sleeping patterns, decrease appetite and cause gum swelling and pain that can turn your otherwise happy baby into an unhappy one.
Managing these teething episodes is one of the most common topics parents bring up with their dentists. Since teething is supposed to happen, there's no need for medical intervention unless the child is also experiencing diarrhea, rashes, fever or prolonged irritability associated with teething episodes. In most cases, the best you can do is to make your child more comfortable. Here are a few things to help you do just that.
Provide cold items for gnawing. Rubber teething rings, wet wash cloths or pacifiers that have been chilled can give your child something to gnaw on and ease the pressure of sore gums while the chilled temperatures help numb pain. Be sure, though, that the items aren't frozen because extremely cold temperatures can burn the skin.
Gum massage. You can massage your child's gums with one of your fingers during a teething episode to counteract the throbbing pressure coming from the erupting tooth. Just be sure your finger is clean and don't use any numbing agents unless advised by your dentist or pediatrician.
OTC medication. You can ease mild to moderate teething pain with over-the-counter pain relievers like acetaminophen or ibuprofen in dosages appropriate for your child's age. But don't apply rubbing alcohol to the gums or massage in any pain reliever—both practices can burn the skin. And, as mentioned before, only apply numbing agents like Benzocaine with the advice and supervision of a healthcare professional.
Besides these practices, be sure to keep up regular dental checkups to monitor the teething process and ensure all is going normally. And remember: though it may seem harrowing at times, the teething process won't last forever.
If you would like more information on easing the effects of teething, please contact us or schedule an appointment for a consultation. You can also learn more about this topic by reading the Dear Doctor magazine article "Teething Troubles: How to Help Keep Your Baby Comfortable."