Posts for tag: gum recession
By Frankenmuth Family Dental - Piesko & Lennan DDS
March 14, 2021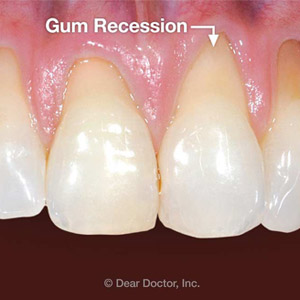 If it seems like your teeth are getting longer as you get older, it's unlikely they're magically growing. More likely, your gums are shrinking or receding from your teeth. Besides the negative effect on your appearance, gum recession exposes you and vulnerable tooth areas to harmful bacteria and painful sensitivity.
Although common among older adults, gum recession isn't necessarily a part of aging: It's primarily caused by periodontal (gum) disease, in which infected gum tissues can weaken and detach from the teeth. This, along with bone loss, leads to recession.
But gum disease isn't the only cause—ironically, brushing your teeth to prevent dental disease can also contribute to recession. By brushing too aggressively or too often (more than twice a day), you could eventually damage the gums and cause them to recede. Tobacco use and oral piercings can also lead to weakened or damaged gums susceptible to recession.
You can lower your risk of gum recession by abstaining from unhealthy habits and proper oral hygiene to prevent gum disease. For the latter, your primary defense is gentle but thorough brushing and flossing every day to remove harmful dental plaque. You should also see your dentist at least twice a year for professional dental cleanings and checkups.
If, however, you do experience gum recession, there are a number of ways to restore your gums or at least minimize the recession. To start with, we must treat any gum disease present by thoroughly removing all plaque and tartar (calcified plaque), which fuels the infection. This reduces inflammation and allows the gums to heal.
With mild recession, the gums may rejuvenate enough tissue to recover the teeth during healing. If not, we may be able to treat exposed areas with a tooth-colored material that protects the surface, relieves discomfort and improves appearance.
If the recession is more advanced, we may still be able to stimulate gum regeneration by attaching a tissue graft with a micro-surgical procedure. These types of periodontal surgeries, however, can require a high degree of technical and artistic skill for best results.
In any event, the sooner we detect gum disease or recession, the quicker we can act to minimize the damage. Doing so will ensure your gums are healthy enough to protect your teeth and preserve your smile.
If you would like more information on gum recession, please contact us or schedule an appointment for a consultation. You can also learn more about this topic by reading the Dear Doctor magazine article "Gum Recession."
By Frankenmuth Family Dental - Piesko & Lennan DDS
July 28, 2018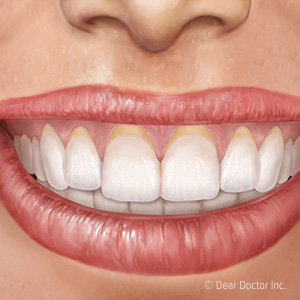 While gum recession is a common occurrence related to aging, it's not just an "old person's disease." It can happen to anyone, even someone with a relatively healthy mouth. And this detachment and shrinking back of the gums from the teeth may not be a minor problem—your dental health is definitely at risk.
Here then are 4 things you should know about gum recession, and what you can do about it.
The most common cause: periodontal (gum) disease. A bacterial infection triggered by built-up dental plaque, gum disease weakens the gums' attachment to teeth that leads to recession. To help prevent it, clean away plaque with daily brushing and flossing and visit a dentist regularly for more thorough plaque removal. If you already have gum disease, prompt treatment could stop the infection and reduce any resulting damage including recession.
…But not the only one. There are other factors that contribute to recession besides disease. In fact, it could be the result of "too much of a good thing"—brushing too hard and too frequently can damage the gums and lead to recession. You might also be more susceptible to recession if you've inherited thin gum tissues from your parents. Thin gums are at increased risk of recession from both disease and over-aggressive hygiene.
Best outcomes result from treating gum disease and/or recession early. The earlier we detect and treat a gum problem, the better the outcome. See your dentist as soon as possible if you see abnormalities like swollen or bleeding gums or teeth that appear larger than before. Depending on your condition there are a number of treatment options like plaque removal or techniques to protect exposed teeth and improve appearance.
Grafting surgery could regenerate lost gum tissue. While with mild cases of gum recession the gums may respond well to treatment and actually rejuvenate on their own, that might not be possible with advanced recession. We may, however, still be able to restore lost tissue through grafting. Using one of a number of techniques, a graft of donor tissue can foster new replacement growth. It's a meticulous micro-surgical approach, but it could be a viable answer to extreme gum recession.
If you would like more information on gum recession, please contact us or schedule an appointment for a consultation. You can also learn more about this topic by reading the Dear Doctor magazine article "Gum Recession."
By Frankenmuth Family Dental - Piesko & Lennan DDS
March 05, 2017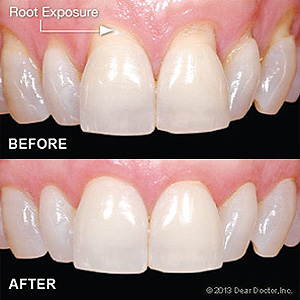 If you've suddenly noticed your smile looking more "toothy," you may have a problem with your gums. They may have lost their normal attachment to your tooth and begun to shrink back — or recede.
Millions of people have some form of gum recession. The most common cause is periodontal (gum) disease, but it's not the only one. You may be more susceptible to gum recession because of heredity — you have thin gum tissues passed down to you from your parents. You may also be brushing too hard and too often and have damaged your gums.
Healthy gums play an important role in dental health. The crown, the tooth's visible part, is covered with a hard, protective shell called enamel. As the enamel ends near where the root begins, the gums take over, forming a tight band around the tooth to protect the roots from bacteria and acid.
Receding gums expose these areas of the tooth meant to be covered. This can lead to another tell-tale sign — tooth sensitivity. You begin to notice pain and discomfort while you consume hot or cold foods. And because it leaves your teeth and gums looking much less attractive, it can affect your confidence to smile.
Fortunately, though, we can help restore receded gums. If you have gum disease, it's imperative we treat it as early as possible. We do this by removing plaque, a thin film of bacteria and food particles that triggers the infection. We use special techniques and hand instruments to remove plaque and calculus (hardened plaque deposits) from all tooth surfaces including along the roots.
Gum disease treatment can help stop and even reverse gum recession. In some cases, though, the recession may have advanced too far. If so, we may need to consider surgically grafting donor tissue to the recessed areas. Depending on the site and extent of recession, this can be a very involved procedure requiring microscopic techniques.
The best approach, though, is to take care of your gums now. Daily brushing and flossing removes harmful plaque; regular dental visits take cleaning a step further and also give us an opportunity to detect disease early. By looking out for your gums now you might be able to avoid gum recession in the future.
If you would like more information on diagnosing and treating gum recession, please contact us or schedule an appointment for a consultation.